The other day I sent my sister a Snapchat of my goals for December. I have them written out in my bullet journal so that I can keep track of them. She immediately responded asking if I could tell her how I set goals and keep them. We talked yesterday and I told her what I do, but then I couldn't stop thinking about it, so I'm sharing how I set meaningful goals with you today.I've always loved the end of the year. It means Christmas, family time, my birthday and the end of the old year and beginning of the new. I realize that January 1st really is an arbitrary date, you can start new goals and change your habits any time you'd like, but for me, January 1 means a fresh start, a new year, full of 365 new days. So, even though I know that I don't have to wait till January 1st to start working on my goals (and really, I don't!) I still think it's a great time of year to reflect on what went well in the past and what I want to change in the next year.
Focus on the big picture.
One thing that I've been learning recently, is that my goals work better when I'm focused on the bigger picture. Where do I want to be at the end of the week, month, year, or five years? In PowerSheets there is a page that has you write out where you want to be when your 80. This seemed overwhelming to me at first, which is why I really thought about where and who I'd like to be in a years time. For now, this small step of looking at the bigger picture really helped me see where I wanted to set my goals.I'll be talking a lot about PowerSheets in this post and in the future, know that this is a tool that I love, otherwise, I wouldn't be sharing it with you! This link is an affiliate link which means if you make a purchase I will receive a small commission at no extra cost to you.
Where do you want to be? What do you want to do? What do you want your life to be filled with at that time?
These are questions that I've been asking myself, and even though some of my goals look the same as they have in the past, I feel like I will be more motivated to actually work on them, because I have the bigger picture in mind. Having the big picture, or eternal perspective really helps me know where I'd like to end up, so I know what I need to do now to help me get there.
What are your passions, loves, and the things that are most important to you? Make those things a priority.
As we move into 2019, I realize that I can't do it all. There are hundreds of things that I want to do in my life, but I can't do them all right now. (And I may never get to some of them, and that's okay.) In this season of life, I'm learning that I need to focus on the things that matter most. At the very beginning of 2018 I heard about PowerSheets and thought they would be a great tool to help me accomplish my goals, but I didn't want to make the investment. I wasn't quite ready. And that's okay! Which is why I used a bullet journal system to track my goals this year.And it worked, but I also knew that I wanted to try Powersheets in 2019. For me, this goal setting planner was worth the investment because in the prep work pages I've really been able to get to know myself better, see the things that really matter most, and as I've set goals, I know that they are things I really want to accomplish.
So, I have my big picture goals broken down into smaller bite-size goals.
I break down all of my goals into daily, weekly, and monthly items. Things that I can actually do that will help me reach that bigger goal. My main goal for 2019 is to love my family well. I want Von and Griffin and Persephone (and extended family) to really feel of my love. For me this looks like snuggle time with Von, putting my phone down when we're all together, and planning date nights with Griffin. With this goal, I'll also be working hard to make our home a safe and spiritual place for us to live and gather, and I'm hoping to finally print some photo albums. These things are important to me and I know that at the end of 2019 I'll feel good in knowing I did love my people well.Everyone's goals will look different. Our seasons of life are all different. And even though there is part of me that just wants to do it all (be a mom and a business owner and an author and a blogger and a great chef and a good friend and a million other things) I can only do so much.In 2019 I'm planning to focus on the things that matter most to me and really cultivate them. That is what makes my goals meaningful because I'm not just setting goals to set new goals, I'm really working towards a bigger picture goal. And this year I'm using Powersheets to help me do that.
Goal setting can be simple and meaningful all at the same time.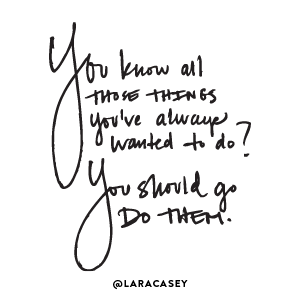 Focus on the things that really matter to you.Look at the big picture, where do you want to be at the end of 2019? What do you want to have focused on and accomplished? Who do you want to be?After answering those questions you can come up with a few big-picture goals like "love your family well" and another one of mine is "be a writer" and "use social media intentionally" and then you can set small smart goals to help you reach that bigger one.
How do you set goals? I'd love to hear about your process!
Also, if you are interested in ordering PowerSheets tomorrow (December 12) is the last day to order to get your PowerSheets by Christmas (in the US)!
Pin post for later!