This post may contain affiliate links, see site disclaimer for more details.
2021 is here! Yesterday I shared my word of the year for 2021 and today I'm digging a little deeper into my 4 big goals for the year.
Every year I try to lean in and set intentional goals that will help me get to where I want to be when I'm 80. I use the Powersheets goal planner from Cultivate What Matters to help me stay on track + dig deeper into the why of each of my goals.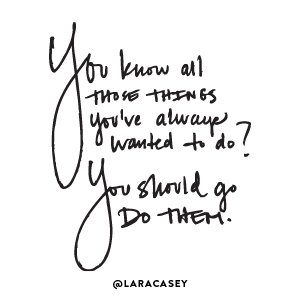 Friends, I've used Powersheets for 2 full years now, and this year I feel even more excited. I've slowed way down from the past two years (see my goals from 2020 and 2019.) After the year we all had in 2020, I knew that I wanted to slow down.
I'm stepping out of the race. You know the one, to get more and more followers, to make it to the top, to hustle until I'm so burned out I can't even see. I've played that game and in 2021 I'm saying no to all of that. Call it a heart change or whatever you'd like, but 2020 made me hit pause on some of the things that I thought were important and it opened my eyes to the things that actually mattered.
Going into 2021 makes me feel giddy, apprehensive, and calm (even after the events that took place last week). I'm still hopeful that this year will hold everything that it needs to hold, even if it doesn't hold everything that I want.
I kept that in mind as I worked through my Powersheets and came up with these four goals for the year. 2021 is a new start. And even if this year is just as hard as 2020, I know when I look back on 2021 that I'll be proud of the things I did if I keep my heart-centered and my focus on cultivating these things.
Goal #1: Walk with Jesus
Why? Because I want Christ and God to be at the center of my life. I have more peace and direction in my life when I am grounded in Them. Because the world is in chaos and in Him, I find calm and I need that calm.
Mini goals: This goal is really all about doing things that bring me closer to God. That means a bigger focus on prayer — talking and listening to Him. Reading from His word daily. Talking about Him as a family and making our home a space where His spirit can reside. Making the Sabbath day a day that's different than every other day, even though we're home all the time.
What might happen if I don't work on this goal? I'll feel untethered and get swept up in the chaos of the world.
Starting steps: Getting started can often be hard, but I'm starting small with daily kneeling prayer, watching the Don't Miss This videos for my Sunday School learning, and having a weekly Family Home Evening (time each week when we gather and talk about God in a mini-lesson).
Goal #2: Focus on Home and Family
Why? Because in past years I've let everything overshadow my home and family and I want to do more for them and with them.
Mini Goals: We moved into our first home last year and I really hope to make it into a space that we love, which means getting organized, hanging more pictures, and starting a garden. I also have been craving better routines and rhythms for our days and more time spent together instead of looking at a screen. This goal will also cover some of our financial goals.
What will happen if I don't start this goal? We'll stay where we are, and while it's not bad, it's not all that we could be as a family.
Starting Steps: Make a budget, gather tools needed for a small backyard garden, and have a phone-free day each week.
Goal #3: Nourish Body and Mind
Why? My body is a gift from God and I want to take care of it. I also want to cope with my mental illnesses in healthier ways.
Mini Goals: Create a bedtime routine, exercise daily, try all the recipes in a cookbook, get outside for 1000 hours this year, journal more, scroll less. There are a lot of little habits and routines that I can and hope to change this year to help me take better care of my mind and body.
What will happen if I don't start this goal? It will feel like my anxiety will always rule my life.
Starting Steps: Pick a bedtime. Start a gratitude journal. Set out workout each night to be ready for the next day.
Goal #4: Cultivate Creativity
Why? Because I thrive when I am creating
Mini Goals: This year I'm leaning into more creative things. I'm planning to write my second book, have fun on Booktube, and do more crafts with Von.
What will happen if I don't start this goal? I'll feel like I don't have a purpose. Like life doesn't have a purpose. Which is something I feel far too often.
Starting Steps: Try a reading vlog!, make time for creativity every day (often during Von's nap), fuel my creativity by filling my tank with books, photos, and using my hands to make something.
---
Do you set goals each year? I'd love to hear about your goals for 2021. Tell me about them in the comments so we can cheer each other on!