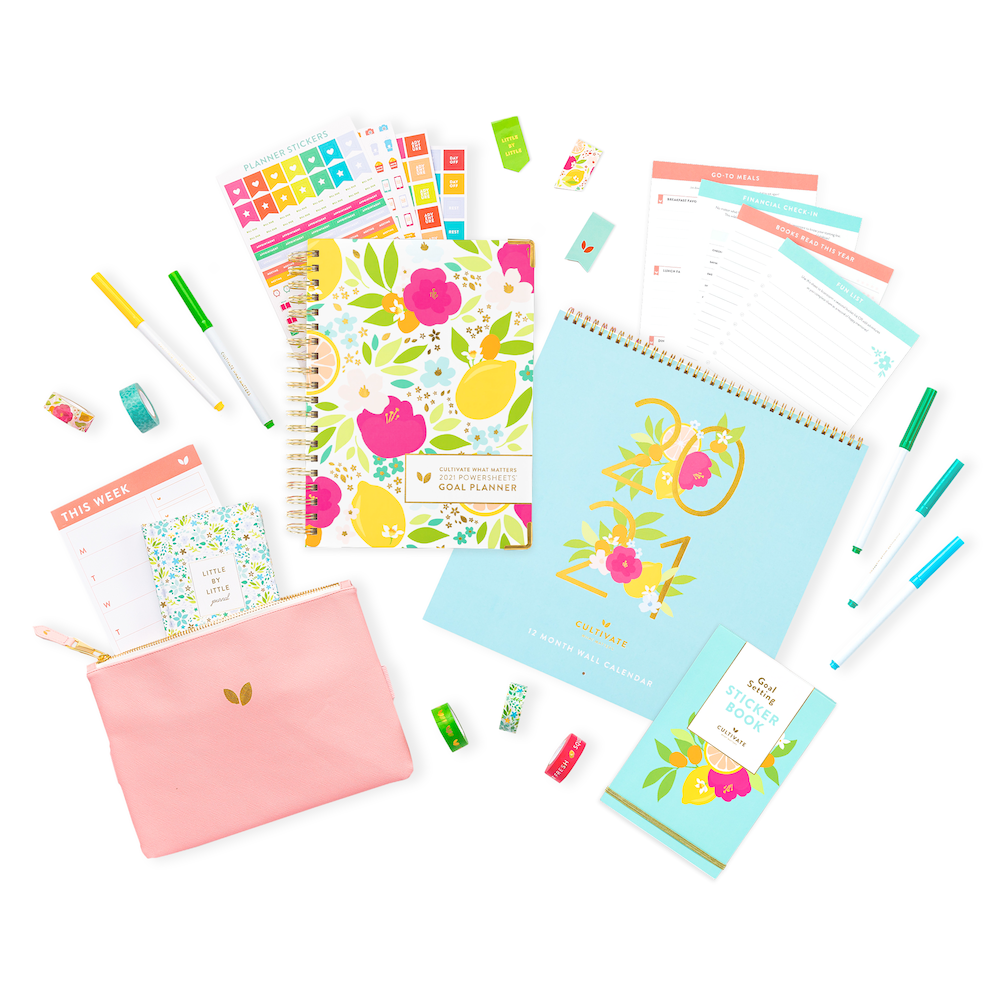 This post contains affiliate links, this means if you make a purchase I will receive a small commission at no cost to you! See my disclaimer for all the details
Happy Wednesday friends! It's a happy day around here because the 2021 Powersheets Planner is now available in the Cultivate What Matters shop!
Want to be inspired all year long to reach your goals? Love setting goals but feel like you aren't making any actual progress on them? I know the feeling well. That's where I was in 2018, and then, everything changed.
If you're like me and have big dreams and love making to do lists, setting goals, and pretty things, I've got the best news for you.
Powersheets will change your life.
How do I know that? Because they changed mine.
I heard about this goal planner back in 2018 as a new mom and thought "I don't really need that, I can just track my goals/habits in a journal" which did, somewhat successfully throughout the year, but I couldn't help but feel like something was missing.
Was I setting goals for things that actually mattered? Did I really want to make a monthly spread each month and then try and find it daily because it was just on a random page in my journal?
The Powersheets Goal Planner gave me everything I needed and more to help me stress less about what goals I was making, but actually make real progress on my big dreams.
2020 was not the year I expected. It threw a lot of curveballs personally and globally, and yet… I still accomplished a lot (and am still accomplishing a lot since the year is not over yet!
And in part, I owe a lot of success to my Powersheets. After the pandemic hit and I felt flustered and afraid and unsure of what to do. I joined a 'goal refresh' hosted by Lara Casey, the creator of these goal planners, and everything changed.
Yes, this season that I was in was extremely difficult, but it didn't mean that my life had to stall or that I couldn't keep planting good things and growing.
I walked away from that short refresh, ready to take on the world (okay, maybe not quite) but I had a better plan, and you know what? Good things came from that.
I strengthened my faith in God. I finished another draft of my book and then another. We bought a house!
And while some of these things may just be part of who I am, I know a lot of the reasons why I am where I am today, is because of my Powersheets.
Powersheets are a goal-setting planner that not only helps you track and tend to your goals but helps you dig deep to figure out what really matters and where you really want to go in life.
Before you even write out any of your goals (okay, well after you write out some of your ideas for the new year), you get to dig deep and do the prep work.
At first, I was skeptical. Did I really need 30+ pages of all this 'stuff' (that's what it seemed like the first time around) to help me get to where I wanted to go? YES!
Powersheets use the science and psychology behind goal setting and habit making to help YOU figure out what your best year looks like. Who wouldn't want that?
So as we leave behind 2020 (well, in a few months) I'm looking forward to making 2021 even better, even if the curveballs and lemons the year will bring are bigger than this year (which I hope they aren't).
But just because there's so much uncertainty, and so much unknown, you are stronger than when we started this year. And I want 2021 to be even better for you.
So why Powersheets?
Because you get to use this stunning tool to help grow the things that matter most. And yeah, you can do it on your own, but for me, everything changed once I had the prep-work and the foundation for where I wanted to go. Powersheets have truly changed my life, and I plan on being a lifetime user.
Shop the Cultivate What Matters 2021 Collection
Today the new 2021 Powersheets go on sale, along with so many other goodies! I grabbed the Clear Skies Powersheets, a Little by Little journal, and a ticket to the Cultivate Your Year Live* with Lara Casey! I also might get a marker set!
I would have grabbed some stickers and washi tape, but I still have some from last year!
*Cultivate Your Year Live is a virtual event where Lara will walk us through all the prep work in your powersheets so that you'll be ready when 2021 starts! On launch day (October 14th) you can get a ticket for 50% off!
Click on the photo to take you to the item, or click to see the entire Cultivate What Matters Shop
Have you used Powersheets before? Are you going to in 2021? I'd love to hear how Powersheets have changed your life in the comments!
Subscribe to get blog posts by email